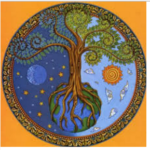 The Cosmic Tree, with its roots in the earth, and its branches spreading into the heavens, is a universal symbol found in many cultures and mythologies. It spans the 4 directions, integrating aspects of all. As a symbol for our healing process, it reminds us that our journey takes us deeper (in Soul work) as well as outward (the journey of the Spirit), and leads in many different directions.
"Cosmic Tree Counseling and Healing Arts" is the web home of:
All our work revolves around facilitating the healing of ourselves, the earth, and all beings in our presence. We believe that the integration of nature, our bodies, spirits and emotions brings us ever closer to our true selves.
At our office, located in East Thetford, Gregory offers counseling services for individuals of all ages, couples, and groups. For more information on Gregory's background, click here.
We also offer Spiritual Companioning for individuals and groups. Helen's background is described here.
All our work is on a sliding scale basis, with counseling sessions between $30 – $90, and spiritual companioning between $25 – $35.